精神分裂患者PBMC中糖代谢严重紊乱的目标代谢物研究
发布日期:2015.12.28
浏览次数(352)
文献中实验基于气相色谱-质谱联用设备作为仪器平台,代谢组学技术为主要手段来研究精神分裂患者外周血单核细胞(PBMC)中糖代谢严重紊乱的代谢特征。包括以下图中的物质在内,整个糖代谢糖酵解通路的物质,以及论文中涉及的实验分析技术方法我公司现已对外提供服务。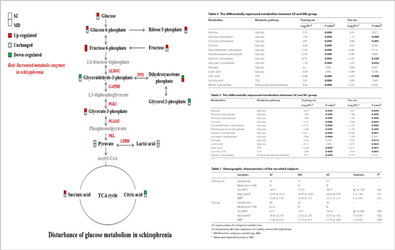 文献内容
Title:Severe disturbance of glucose metabolism in peripheral blood mononuclear cells of schizophrenia patients: a targeted metabolomic study.
Author:Liu ML , Zhang XT , Du XY , Fang Z , Liu Z , Xu Y , Zheng P , Xu XJ , Cheng PF , Huang T , Bai SJ , Zhao LB , Qi ZG , Shao WH , Xie P .
Journal: J Transl Med
Keywords: cancer、cancer diagnosis、diagnostic biomarkers、lipidomics、liquid chromatogr-aphy-mass spectrometry、NMR spectroscopy、prognostic biomarkers、untargeted metabolon-mics targeted metabolomics.
Abstract:
Schizophrenia is a widespread and debilitating mental disorder. However, the underlying molecular mechanism of schizophrenia remains largely unknown and no objective laboratory tests are available to diagnose this disorder. The aim of the present study was to characterize the alternations of glucose metabolites and identify potential diagnostic biomarkers for schizophrenia. Gas chromatography/mass spectrometry based targeted metabolomic method was used to quantify the levels of 13 glucose metabolites in peripheral blood mononuclear cells (PBMCs) derived from healthy controls, schizophrenia and major depression subjects (n = 55 for each group). The majority (84.6%) of glucose metabolites were significantly disturbed in schizophrenia subjects, while only two (15.4%) glucose metabolites were differently expressed in depression subjects relative to healthy controls in both training set (n = 35/group) and test set (n = 20/group). Antipsychotics had only a subtle effect on glucose metabolism pathway. Moreover, ribose 5-phosphate in PBMCs showed a high diagnostic performance for first-episode drug-naïve schizophrenia subjects. These findings suggested disturbance of glucose metabolism may be implicated in onset of schizophrenia and could aid in development of diagnostic tool for this disorder.